"OUR HISTORY IN BRIEF..."    OR "THE WHOLE HISTORY" READ A LITTLE FURTHER DOWN...


Originally from Mallorca on my mother's side, I spent every summer at Soller since I was a little girl and I wanted to live there one day.
Married to Joachim, we decided to move to the island in 2015. After a radical change of profession, he got professionally trained in making natural soaps using the traditional cold saponification method: the brand "jabon de Mallorca" was born. Our philosophy: handcrafted with local raw materials (virgin olive oil from Soller, virgin sweet almond oil from Mallorca and plants from the Sierra de Tramuntana) and 100% natural, environmentally friendly, "plastic-free" packaging and products that offer the best for your skin.
In 2017, we created the brand "Mallorca Natur", which will be in the same style as "jabon de Mallorca" but more cosmetic-oriented. A solid shampoo was created: based on olive oil, rosemary and lemon from Mallorca.
In 2018, Organic care oils for face, hair and body. Four organic sweet almond oils with different fragrances were offered to customers.
In 2019, we focused on essential oils and produced the 1st natural, ecological perfume made in Mallorca with local, certified ingredients. Three perfumes are available with unique fragrancesthat bring back memories of our island.
In 2020, the Covid 19, impacts us like all companies. Joachim reflects on the manufacture of a hand soap: "El Saboner", our latest product.
Rose - May 6, 2020
THE WHOLE STORY
We are French and like many Sollerics our history is written between France and Soller, where I have spent all my summers since my early childhood. At the end of the 18th century and the beginning of the 19th, many Sollerics emigrated for economic reasons. It was almost easier to go by boat to France from the port of Soller than to go to Palma. Soller was very isolated by its mountains.
My maternal grandparents were among those people. Being attached to their Mallorcan roots and my grandmother's family having stayed in the country, I have spent all my summers in Soller since I was a child.
This island has always called me and the life here soothes me.
I have been married to Joachim since 1996, and when I introduced him to Mallorca I told himmy secret dream of moving there. He rather liked the idea: he's an adventurer, but the opportunity to move didn't present itself because of the pace of our professional life.
In 2015, afterhaving 3 beautiful children; Mathieu 17 years old, Rachel 14 years old and Raphaël 12 years old, the decision was made quickly when Joachim needed a change to his professional career. At the time wewere living in Morocco, in Marrakech, and he was working for a big company. There was too much pressure, there were too many employees andhe had no job satisfaction. He wanted to change, work for himself and do something he was passionate about. I supported him. The destination was found; it was going to be Mallorca, and more than Mallorca, it had to be Soller, the "unbeatable."  I always knew we were going to be there one day. We had to find a new activity and start a new life from scratch. Because I was a teacher at the French lycée Victor Hugo in Marrakech I applied for a job at the French lycée in Palma, which immediately recruited me.
At the same time, our last son, Raphaël, asthmatic since he was very young, had an atopic skin, like many asthmatics. A dermatologist advised me to buy natural soaps with olive oil, superfatted and ultra soft. The idea to make soaps came naturally, and we also realized that olive oil wasn't used at all in cosmetics on the island.
Moreover, a friend in charge of purchasing products for a large French cosmetics group, told us about all the chemical ingredients which are found in shower gels and creams in particular, and therefore… on our skin? No wonder that our son had skin problems... This confirmed our idea!
Joachim didn't speak Spanish, but his desire to succeedwasstronger than not speaking the language. He started to study the different possibilities to make soap:
- The Bondillons
- Hot saponification
- Cold saponification 
To support the local economy and the philosophy of "mile zero", we chose the latter solution even if it was much more difficult to achieve.
We can call ourselves "craftsmen" by using bondillons.
Bringing the local economy to life, not using chemicals, returning to nature, to nature's sources: this was our aspiration. Buy local and produce local.
Joachim became a trained scientist in cold saponification and European cosmetics regulations. The officialregulations have the same requirements for the L'Oréal group as for a small craftsman from Soller.
For months, Joachim was experimenting with Soller's olive oil. The soaps were a success: ultra mild, super fatty and they deposit a light film of glycerin on the skin, just as we wanted.
And then, he jumped into all the administrative procedures, with his random Spanish but with a real passion for this new challenge.
The packaging had to be without plastic, that was a must. He looked for a local printer, which is situated in Palma.
Respecting European standards (he obtains the ECOCERT and Slow Cosmetics labels), nature, the environment and the circular economy, he created a range of eight soaps, all handmade by himself. He was happy and proud of his work and I always supported him.
A fan of zero plastic and natural products, he released a solid shampoo two years after his debut, in 2017, under a new brand "Mallorca Natur".
Always looking for new experiences close to nature, Joachim was also interested in manufacturing essential oils and he started to distill plants from Soller and theTramuntana Mountains.
He trained himself in the ecological and natural manufacture of perfume and in 2018he releasedhis first perfume made entirely by hand with plants distilled in Soller.
He was working on a lip balm, also entirely natural and ecological with almond oil from Mallorca when Covid 19 appeared. The packaging will not be made of plastic either and will be produced in Spain (or in Europe if we can't find Spanish manufacturers for small quantities).
In 2020, the Covid 19 crisis will have an impact on us like on many other companies. Joachim is thinking about manufacturing a hydo-alcoholic gel or hand soap. He opts for the soap (our specialty) that will not dry the skin but on the contrary will be soft thanks to the precious olive oil. It will have a simple and even more environmentally friendly packaging. "El Saboner" was born.
He always has new ideas, always turns to nature, he cares about the local economy andthe wellbeing of our skin. This is our philosophy.
I am proud of him: well done Joachim!
Rose - May 6, 2020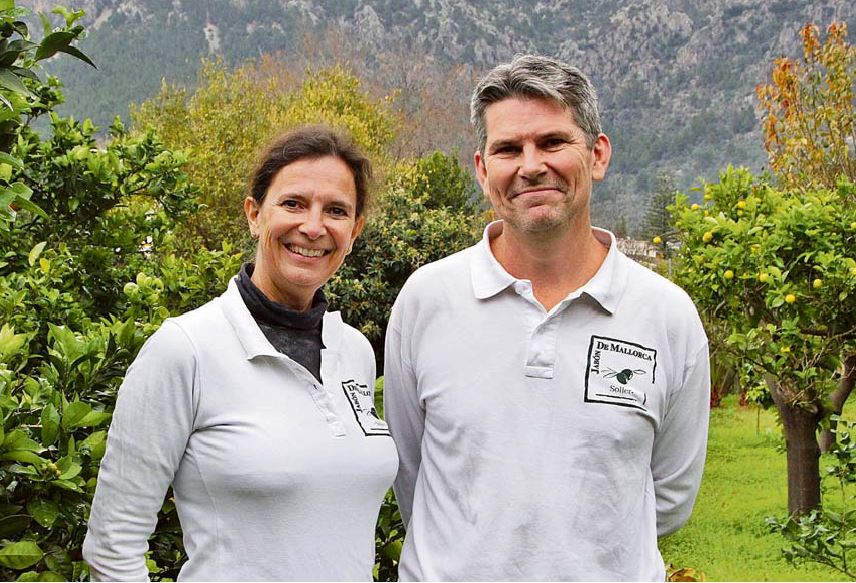 Foto : ALOTER